Signstek Pat-240 2.4Ghz 250m 30m 4 Channel Wireless Audio Video AV SD TV Sender Transmitter & Receiver IR Remoter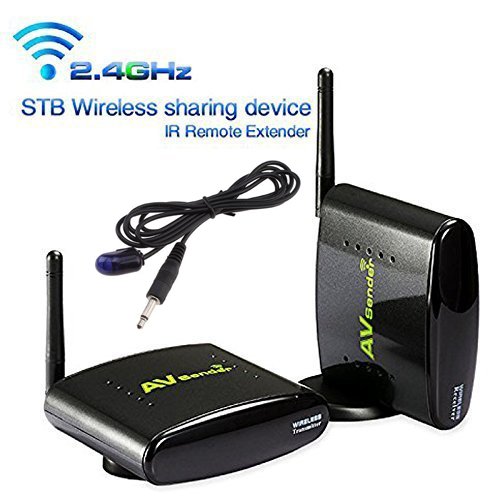 Amazon Price:
N/A
(as of April 23, 2018 9:09 pm –
Currently unavailable
Wireless AV transmitter& receiver enable you satisfy the transmission of A/V device and digital TV STB device.
It enables you to easily realize wireless sharing of HD AV data and enjoy untrammeled hi-fi audio and visual effects.
Features:

The transmitter and the receiver are used in the same channel in a pair and can be used in the modes of point-multipoint or multipoint-multipoint
Compatible with DVD, DVR, CCD camera, IPTV, satellite STB, digital TV STB and other AV output devices
Supports video transmission of PAL/NTSC system and stereo audio transmission
Point:
Wireless Transmitter Distance ≤250m in Unobstructive Place or in wide-open area. Wireless transmitter distance ≤30m in obstructive place such as living rooms that are walled off by 2 walls. This mode is suitable for place where is 2 walls, not only used in TV BOX or DVD remote operation, but to control TV BOX or DVD remotely via receiver
Application:
Wireless AV transmission solutions are suitable for large video meeting systems and multimedia class rooms.
With an external CCD camera, it can realize real-time field image monitoring in applications such as security system.
It can also be used in AV transmission applications where the AV cabling is difficult or expensive.
Specification:
Frequency Band: 2.4GHz
Sensitivity:-90DBM
Video Input&Output Level:1Vp-p(PAL/NTSC)
Audio Input&Output Level:1Vp-p(Stereo)
IR Transmitter:Superheterodyne 433.92MHz
Carrier frequency:38KHz
IR Transmitting Range:≥5m
IR Receiving Range:≥10m
Power Supply:DC 5V-1000mA
Package:
1 x Transmitter
1 x Receiver
2 x Power adapter
2 x RCA cable
1 x IR remote signal extension wire
1 x Operation Manual
Technical Details
Brand Name: : Signstek
Model Number: : Signstek
Output Wattage: : 1 Watts