Pyle Home PT610 19-Inch Rack Mount 600-Watt Power Amplifier/Mixer with 70V Output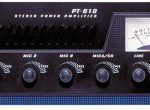 Amazon Price:
$159.74
$156.23
You save:
$3.51 (2%)
(as of January 31, 2020 6:27 pm –
This rack-mountable, 5-channel power amplifier has power – 600 watts! On the back, it's equipped with 4 mic inputs, each of which can take balanced XLR or ¼" jack inputs – and a rotary-controlled filter prevents excessive feedback. It also has 2 RCA line inputs – so you can connect another source like a CD or MP3 player. This amp is also compatible with speakers of various impedance – it has screw terminals for 4, 8, and 16 ohm speakers, as well as an 8 ohm binding post output. The in/out effects loop allows you to process your signal using an external device. On the front, an illuminated VU meter provides signal levels. A headphone jack lets you hear your mix in private. The PT610 has thermal overload protection with indicator, so you know your sound is secure. Runs on 110 and 220 V.