The Wizard of Oz: 75th Anniversary Edition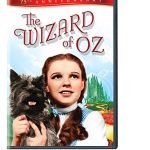 Did I Scare You – Wizard of Oz 75th Anniversary – Own it October 1

The Wizard of Oz 3D: 75th Anniversary – Official Trailer

The Wizard of Oz 75th Anniversary Collector's Edition Blu-Ray 3D Unboxing

[Blu-ray 2D/3D] The Wizard of Oz: 75th Anniversary Limited Collector's Edition (USA)

Closer Look – Wizard of Oz 75th Anniversary 3D Blu-ray Set!

Monopoly: The Wizard of Oz 75th Anniversary Collector's Edition from USAopoly

The Wizard of Oz 75th Anniversary Blu-ray Unboxing

The Wizard of Oz 75th Anniversary Edition Blu-Ray Unboxing

Forgot To Give Me A Heart – Wizard of Oz 75th Anniversary – Own it October 1

Wizard Of Oz 75th Anniversary Edition
Amazon Price:
$12.51
$12.51
(as of July 20, 2018 8:16 pm –
The magic of M-G-M's wonderfully colorful and unique fantasy has melted hearts for more than seven decades with its indelible melodies and transcendent themes of family, home and the courage to pursue dreams. To celebrate the beloved movie's 75th anniversary, Warner Bros. Home Entertainment is re-releasing The Wizard of Oz on DVD.
Adapted from L. Frank Baum's timeless children's tale about a Kansas girl's journey over the rainbow, The Wizard of Oz starred Judy Garland as Dorothy, Ray Bolger as the Scarecrow; Bert Lahr as the Cowardly Lion; Jack Haley as the Tin Woodman and Margaret Hamilton as the Wicked Witch.

The Wizard of Oz received five Academy Award® nominations[1], including Best Picture (Outstanding Production), and captured two Oscars® — Best Song ("Over the Rainbow") and Best Original Score — plus a special award for Outstanding Juvenile Performance by Ms. Garland.
Product Details
Actors: Various
Directors: Various
Format: Multiple Formats, Color, NTSC
Language: English, French
Subtitles: English, French, Spanish
Region: Region 1 (U.S. and Canada only. Read more about DVD formats.)
Aspect Ratio: 1.33:1
Number of discs: 2
Rated: G General Audience
Studio: Warner Bros.
DVD Release Date: October 1, 2013
Run Time: 101 minutes
ASIN: B00CNW9ZI6
update product info: or give feedback on images?