Yorkville CA1 Amplifier 70 Volt 6 Channel Public Address Amp Rack Mountable Steel Chassis Black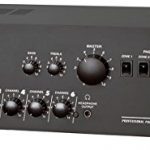 Yorkville CA1 Mixer / Amplifier
Amazon Price:
$289.00
$289.00
You save:
(%)
(as of March 19, 2020 11:04 am –
Professional Public Address / Installation Amplifier
The Coliseum CA1 public address amplifier has been designed specifically for installations where a versatile paging system with high quality music playback is required.

Ideal for restaurants, small clubs, offices and retail environments where a simple and reliable system capable of servicing multiple paging zones is required. Multiple inputs for microphone or source material, and voice activated paging from either a microphone or telephone matrix means the CA1 can be used in virtually any application.
Specifications
– Number of Channels 6
– Inputs – 1/4" / XLR Combi 3
– Inputs – RCA (unbal) 2
– Phantom Power Yes
– Headphone Monitor Features Yes – main Output
– Record Outputs Yes
– Mixer – Signal to Noise Ratio (dB) Greater than 55dB
– Mixer – Freq Resp (Tone and EQ Flat,±2dB) 50 – 15kHz
– Amp A – Power Output @ 4 Ohms 180 Watts
– Amp A – Power Output -other 180 Watts 70-volts
– THD – 1kHz (dB) Less than 1%
– Cooling Passive
– Finish Black
– Chassis Construction Steel
– Rackmount Yes
– Other Features Zone Paging / Telephone interface