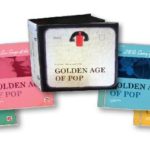 Golden Age of Country Commercial

The Best Big Bands of the Swing Era

Music of Your Life CD Collection Commercial

"Teen Years" with Neil Sedaka – outtakes

Boogie Woogie Greats – The Best of Boogie Woogie, more than 2 hours of music with the greatest!

We Shall Prevail

americanos-enganchados vol:01

Time life music

It happened on a summer's day

Music Of Your Life-Shop24Direct
Amazon Price:
N/A
(as of July 15, 2018 11:08 pm –
It was an era of incredible stars, fantastic voices, beautiful harmonies, magical melodies, and music we will always remember… It was the Golden
Age of Pop. Now for the first time ever, all the hits and all the stars from this most wonderful era are together in one collection! 155 classic songs on 10 CDs it's the definitive musical montage of the 1950s.
This era had it all: the beginning of rock and roll, the blues, some doo wop, and some of the best love songs ever made, with memorable classics by Frank Sinatra, Dean Martin, Peggy Lee, Debbie Reynolds, Andy Williams, Paul Anka, Perry Como, Elvis Presley, Peggy Lee, Nat King Cole, Dinah Shore, Bobby Darin, The McGuire Sisters, Tony Bennett, Al Martino, Johnny Mathis, and dozens more.

-10-CD set with 155 songs! 'Golden Age Of Pop' is the most complete collection of pop hits from the fifties.
Includes complete liner notes with photos and stories about the artists and their music.
-Timeless Hits: The fifties was an unbelievable decade filled with
tremendous optimism, and the music had a special way of touching our hearts.
-Highest Quality: Every song is the original hit, digitally remastered to give listeners 'studio-perfect' sound.
Product Details
Audio CD: (February 15, 2011)
Number of Discs: 10
Format: Box set
Note on Boxed Sets: During shipping, discs in boxed sets occasionally become dislodged without damage. Please examine and play these discs. If you are not completely satisfied, we'll refund or replace your purchase.
Label: Time Life Entertainment
ASIN: B0048LWQT0