Haunted: The Complete Series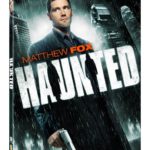 Amazon Price:
$6.04
$6.04
You save:
(%)
(as of March 20, 2020 9:52 am –
It's hard to say how much influence Matthew Fox's subsequent stardom on Lost may have impacted the decision to release Haunted to the home-video market some eight years after the fact, but fans of this short-lived TV series (the two-disc set includes 11 episodes, only 7 of which were aired in 2002 prior to the show's cancellation by UPN) are thrilled. And why not? Even if it doesn't always live up to its intriguing premise, Haunted, which suggests what The Sixth Sense might have been like as a murder mystery, has enough going for it to sustain interest throughout this, its one and only season. Fox plays Frank Taylor, a former police detective in Los Angeles whose young son was kidnapped one night two years earlier while he and his wife Jessica (Lynn Collins), an assistant district attorney, were in the other room. It was straight downhill from there; Frank lost his gig, then his marriage, and then very nearly his life when, at work as a private investigator, he was attacked by an especially vicious bad guy (whom Frank then killed). "But I came back," Frank says. "And the dead came with me." Indeed, he now sees all manner of ghosts, who are in some kind of purgatory between this world and the next. Some indirectly help him solve crimes; others, including Simon, the bad guy from the pilot (played by John Mann), do exactly the opposite. And they tend to appear at inopportune times, leading those around him, not to mention Frank himself, to question his sanity (ironically, he checks himself in to an asylum in the final episode in order to solve a case).
With its dark, moody, stylish look, Haunted certainly has a vibe. But while there are some compelling episodes (like "Nocturne," in which Frank is possessed by the ghost of another cop, and "Simon Redux," which offers a surprising revelation about the dead villain), it loses its momentum when Frank veers from his principal purpose–namely, figuring out what happened to his son, who may still be alive. And although the ghosts provide some genuinely scary moments, the effect wears off after several episodes, exposing the show's weaker elements, which include some stock characters, less-than-stellar acting, and obvious, clunky writing. Still, this DVD release gives the show a well-deserved second chance. –Sam Graham