.5: The Gray Chapter (Deluxe Edition)(2CD)(Explicit)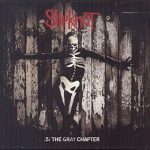 Amazon Price:
$13.02
$12.99
You save:
$0.03 (%)
(as of March 10, 2020 2:11 pm –
After 6 turbulent years, Slipknot returns with one of their heaviest and most intense body of work – .5:The Gray Chapter. Stretching from grief to anger and beyond, the album touches on the most difficult period of the bands career and serves as a tribute to a lost friend and bandmate. Led by the ferocious "The Negative One" and the first single "The Devil In I" the album ranges from the raw moments from the bands self-titled debut and follow-up Iowa to the dynamics of Vol 3: The Subliminal Verses and All Hope Is Gone. .5: The Gray Chapter is classic Slipknot while remaining fresh and innovative and proves Slipknot continues to be the premiere heavy band of this generation.