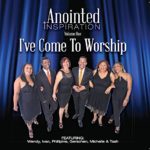 NEVER GIVE UP | 5 Minutes to Start Your Day Right! – Anointed Inspirational & Motivational Video

TRUST GOD Scriptures read by Pastor Sean Pinder | ANOINTED INSPIRATIONAL VIDEO

THE LORD IS YOUR SHEPHERD | ANOINTED INSPIRATION

YOU HAVE GOD ON YOUR SIDE | ANOINTED INSPIRATION

STAY FOCUSED ON JESUS | ANOINTED INSPIRATION

TRUST IN GOD | ANOINTED INSPIRATION

QUIT WORRYING | ANOINTED INSPIRATION

BE ENCOURAGED | ANOINTED INSPIRATION

GOD'S TURNING IT AROUND FOR YOU | ANOINTED INSPIRATION

GOD WILL NOT DISAPPOINT YOU | ANOINTED INSPIRATION
Amazon Price:
$11.00
(as of March 19, 2020 9:46 am –
This CD contains 12 inspirational gospel compositions by Cape Town, South African songwriter and composer, Johannes Coetzee. It contains 7 English and 5 Afrikaans songs. All songs are composed by Johannes, but track 11, "My Shepherd" is composed by Darryll Manuel. This album, "Anointed Inspiration, Vol. 1, called "I've come to worship" is his debut, and will be the 1st of a series to follow. Whilst Johannes is the executive producer, the music arrangements and recordings were done by producer Darryll Manual, founder and owner of RendPro Music Studio. the CD was Launched on Friday 17 April 2015, in the Bellville Theatre, Cape Town South Africa and comprise a compilation of solo artists who collaborated into also performing 3 group items on the CD. The singers are: Ivan Siegelaar, Phillipine Morkel, Gerschen Thys, Michelle Coetzee, Natasha May and Wendy Mitchell. Whilst the latter 3 of the singers made their recording debut on this album, the prior 3 have recorded their own albums already. The name "Anointed Inspiration" was inspired by song number 6 on the album, "Let your anointing", and the title track, "I've come to worship" is performed by Natasha and Wendy. The album is intended for easy listening, whilst meditating on the word of the Lord during quiet time. We hope to be a blessing to Christians around the globe.
This product is manufactured on demand using CD-R recordable media. Amazon.com's standard return policy will apply.