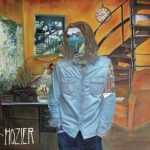 Hozier – Almost (Sweet Music) (Official Video)

Hozier – Take Me To Church (Official Video)

Hozier – Movement

Hozier – Work Song (Official Video)

Hozier – Dinner & Diatribes (Official Video)

Hozier – Take Me To Church (Pop-Up Show in NYC Subway)

Maren Morris, Hozier – The Bones (Audio)

Hozier – Someone New (Official Video)

Hozier – From Eden (Official Video)

Hozier – Cherry Wine (Official Video)
Amazon Price:
$5.97
(as of March 5, 2020 10:10 am –
It's not often that you stumble across a songwriter whose lyrics both sound and read like poetry. When those lyrics are set to music that balances burning indignation with lilting tenderness, and delivered in a voice imbued with the spiritual passion and yearning of gospel and the blues, you figure you've chanced upon something special. And so it is with 23-year-old Andrew Hozier-Byrne, an Irish singer-songwriter and multi-instrumentalist from County Wicklow who goes by the name of Hozier.
Hozier releases his self-titled debut album on Columbia Records, following his two EPs Take Me To Church and From Eden. The new album produced by Ron Kirwan (PJ Harvey and Depeche Mode). Hozier will feature the hit single "Take Me To Church" as well as his most recent release "Sedated."

Raised in a musical family, Hozier's childhood and adolescent listening was dominated, he says, "by Chicago blues, Texan blues, Chess Records, Motown, and then I discovered jazz, but more importantly, Delta blues that extraordinarily haunting sound. Skip James, Blind Willie Johnson, people like that. Later, it was Pink Floyd, Nina Simone, Billie Holiday, plus Tom Waits was a huge, huge influence. I was always drawn to singers with something haunting about their voices. The same goes for writers such as James Joyce and Oscar Wilde. You can't define what it is, but it buries itself deep in your soul."
After a string of sold out dates and electrifying performances including TV appearances on The Late Show With David Letterman and The Ellen DeGeneres Show, Hozier will return stateside when he launches his first national headline tour this fall. The tour crisscrosses the country before wrapping up with two shows in New York City.
Tastemakers and critics have wholeheartedly embraced his spirited and soulful sound. He's drawn praise from NPR, New York Magazine, KCRW's Morning Becomes Eclectic, MTV Buzzworthy, Consequence of Sound, and more. Most recently he was featured on NPR's All Things Considered and Tiny Desk Concert.