Mosquito: 20th Anniversary Edition [Blu-ray]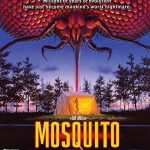 Amazon Price:
$24.95
$24.95
You save:
(%)
(as of March 20, 2020 11:32 am –
Science-fiction becomes horrifyingly real for a park full of innocent campers, as a hideous horde of mutated mosquitoes viciously attack without warning! A band of survivors flees the bloodthirsty swarm in a death-defying attempt to warn the world of the mosquito menace. Led by a brave young couple and a resourceful government agent, the group realizes their only hope is to take on the bloodthirsty bugs in an explosive final showdown! A chilling blend of sci-fi, humor and old-school horror, MOSQUITO is a tour de force of terror.
Starring genre icon Gunnar Hansen (the original Leatherface from THE TEXAS CHAIN SAW MASSACRE) and the late, great Ron Asheton (founding member of the punk rock band, The Stooges), MOSQUITO is a gore-drenched tale made with traditional stop-motion and practical effects!

Special Features: Audio Commentary Bugging Out! – The Making of MOSQUITO Deleted/Extended Scenes Behind-the-Scenes Footage Still Gallery Theatrical Trailer