Nature Sounds with Music (Deep Sleep Music, Relaxation, Music for Healing, Music with Nature)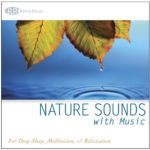 Amazon Price:
$12.98
(as of March 11, 2020 11:24 pm –
For deep sleep, meditation, and relaxation.
NATURE SOUNDS WITH MUSIC is a digitally mastered CD containing over one hour of crisp clear nature sounds paired together with the beautiful music of pianist/composer Bradley Joseph. It creates a relaxing atmosphere for sleep, yoga, the workplace, dinner time, morning coffee, driving, and for other special times in our life.

Professional pianist/composer Bradley Joseph performed with multi-platinum artists Yanni
for over a decade. His brilliant arrangements bring to life this incredible collection.