Stand Ye Steady: Songs of Courage & Inspiration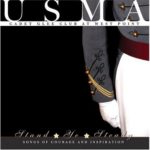 "Mansions of the Lord" performed by the Cadet Glee Club of West Point

"Into The Fire" performed by Daniel Rodriquez and the Cadet Glee Club of West Point

Jerusalem

Into the Fire

Rise Up, O Men of God

Non Nobis

Lest We Forget

Mansions of the Lord

On Great Lone Hills

"The Longest Day" performed by the Cadet Glee Club of West Point
Amazon Price:
N/A
(as of March 20, 2020 11:21 am –
For the first time ever, the USMA Cadet Glee Club of West Point has been filmed and recorded in the magnificent 100 year-old Cadet Chapel performing 16 specially selected songs hailing the cherished values of America. Stand Ye Steady Songs of Courage and Inspiration , standyesteady.com, was conceived and created by Curtain Call Productions to show support for all the Men and Women who have served and are now serving in the U.S. Armed Forces. Set against the richly paneled Chapel altar and 80 Cadets splendidly arrayed in parade dress uniforms, the performance is highlighted with archival photographs and film footage of our Soldiers from WWII through the Iraq and Afghanistan wars. Stirring excerpts from the speeches of Generals Eisenhower and MacArthur introduce 4 of the songs.
Joining the Glee Club are two special guests – recording artist Daniel Rodriguez of NYPD fame, gives a rousing performance of his hit Into The Fire and Lea Salonga, Tony Award winner for Miss Saigon and the voice of Jasmine in Aladdin , gives a powerfully moving performance of the Christian music classic Via Dolorosa . Four of the songs, This Christmastide, Jerusalem, Lest We Forget , and On Lone Great Hills feature the Chapel s mammoth organ the largest church organ in the world! With arrangements by world-renowned Don Fraser and mixed by Gold Record Producer John McCracken (Michael Crawford s On Eagle s Wings ) and 7 time Grammy Winner Richard King at Sony Music Studios in New York City, this 5.1 Dolby Digital Surround Sound performance offers the viewer an intimate, powerful and inspiring experience.

Stand Ye Steady Songs of Courage and Inspiration has been broadcast on PBS, TBN, Daystar TV and the Armed Forces Netwok.
A portion of the proceeds from the sale of this DVD supports organizations assisting those soldiers wounded in Iraq and Afghanistan and their families.