William Castle Film Collection – 5 Movie Pack: 13 Ghosts, Mr. Sardonicus, Homicidal, The Old Dark House, 13 Frightened Girls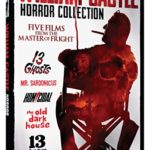 My Blu-ray Collection Update 8/8/15 : Blu ray and Dvd Movie Reviews

DigiGods Episode 144: 2018 Holiday Special and Gift Guide
Amazon Price:
$8.96
$8.96
You save:
(%)
(as of March 11, 2020 8:43 pm –
Enjoy 5 spine-tingling classics from Castle!
Iconic horror director William Castle created a simple, but winning formula for his films: a little comedy, a lot of scares, a preposterous gimmick, and a clear sense that fright films should be fun. This even meant Castle would, like Alfred Hitchcock, appear in his trailers and even the movies themselves.

Though his career spanned 35 years and included everything from westerns to crime thrillers, he'll always be remembered for his horror films from the late 50s to the mid-60s. Enjoy 5 of his spine-tingling classics!
13 Ghosts
(1960) Black and White 85 minutes Not Rated
Starring: Charles Herbert, Jo Morrow, Martin Milner, Rosemary DeCamp. Donald Woods, Margaret Hamilton
When an eccentric uncle wills a huge, ramshackle house to his impoverished family, they get the shock of a lifetime. Their new residence comes complete with a spooky housekeeper, plus a fortune in buried treasure and 12 horrifying ghosts.
13 Frightened Girls
(1963) Color 88 minutes Not Rated
Starring: Murray Hamilton, Joyce Taylor, Hugh Marlowe, Khigh Dhiegh, Charlie Briggs, Norma Varden
The girls of a Swiss boarding school have one thing in common they are all daughters of diplomats. One in particular finds out that she has a knack for espionage, and uncovers the murder of a Russian diplomat. Now she must escape using her girlish wiles.
Mr. Sardonicus
(1961) Black and White 90 minutes Not Rated
Starring: Ronald Lewis, Audrey Dalton, Guy Rolfe, Oskar Homolka, Vladimir Sokoloff, Erika Peters
Desperate to retrieve a winning lottery ticket, a greedy man unearths his father's corpse. An enormous jackpot is his reward, but not without a price: his face is frozen permanently into a hideous grin. He enlists his one-eyed servant to help him lift the curse.
Homicidal
(1961) Black and White 88 minutes Not Rated
Starring: Glenn Corbett, Patricia Breslin, Eugenie Leontovich, Alan Bunce, Richard Rust, James Westerfield
In the small town of Solvang, there's a killer on the loose and the nurse taking care of a wheelchair bound stroke victim has a bedside manner is to die for. As the truth is uncovered, a town's most chilling mystery will be revealed… and a family's darkest secret.
The Old Dark House
(1963) Color 87 minutes Not Rated
Starring: Tom Poston, Robert Morley, Janette Scott, Joyce Grenfell, Mervyn Jones, Fenella Fielding
An American car salesman living in London, is invited to spend the weekend at the Femm Estate. The Femms, trapped in the house due to an ancestor's will, live in fear as they are taken out one at a time. Tom is left to figure out who the killer is before he becomes a victim himself!