Vintage Sci-Fi Movies, 6 Film Set -The 27th Day, The H-Man, Valley of the Dragons, 12 to the Moon, Battle in Outer Space, Night the World Exploded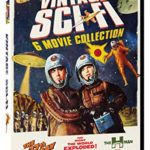 Amazon Price:
$8.64
$8.64
You save:
(%)
(as of March 17, 2020 5:36 pm –
The 27th Day
Starring : Gene Barry (War of the Worlds), Valerie French, George Vaokovec, Arnold Moss, Stefan Schnabel, Friedrich von, Ledebur

An alien give five ordinary people from various countries capsules capable of killing millions of people.Will they use the capsules or will they hold their ground even as they are being hunted down.
The Night the World Exploded
Starring : Kathryn Grant, William Leslie, Tristram Coffin, Raymond Greenleaf, Charles Evans, Frank J. Scannell
Dr. Conway has perfected a machine which he believes will predict earthquakes, and has determined that one will strike California within 24 hours. They discover there is only 4 weeks to Armageddon. It s a race to save the world.
The H-Man
Starring : Yumi Shirakawa, Kenji Sahara, Akihiko Hirata, Eitarô Ozawa, Koreya Senda, Makoto Satô
Singer Chikako Arai s boyfriend has dissappeared. The police begin to hunt for him and discover the radiation from an atomic bomb has turned people into creatures who can kill by touch. They must hurry and catch these creatures to stop the killings.
Twelve to the Moon
Starring: Ken Clark, Michi Kobi, Tom Conway, Anthony Dexter, John Wengraf, Robert Montgomery Jr.
An international team embarks on an expedition to the moon in an uncommonly spacious rocketship. There they encounter a faceless alien intelligence who conclude that the human race is too immature and dangerous and must be destroyed.
Battle in Outer Space
Starring : Ryô Ikebe, Kyôko Anzai, Minoru Takada, Koreya Senda, Len Stanford, Harold Conway
The nations of the Earth unite in a common cause to fight off an invader from outer space.
Valley of the Dragons
Starring: Cesare Danova, Sean McClory, Joan Staley, Danielle De Metz, Gregg Martell, Gil Peerkins
Two men are having a duel with one another when a comet goes past the earth at low altitude and transports them to the moon which is inhabited by savage human beings. They must work together to survive.